By Jenkins Fenstermaker, PLLC on 05/25/2021
Restaurant COVID Solutions and Safety Measures: What Will We Keep?
The COVID-19 pandemic challenged the restaurant industry like nothing in recent memory, yet many business owners, operators, and staff rose to the challenge with grit and innovation. Some of the restaurant COVID solutions that were adopted to keep businesses afloat and ensure public health and safety—from new services to improved technology—are likely to stick around as consumers and restaurant operators realize new value and opportunities.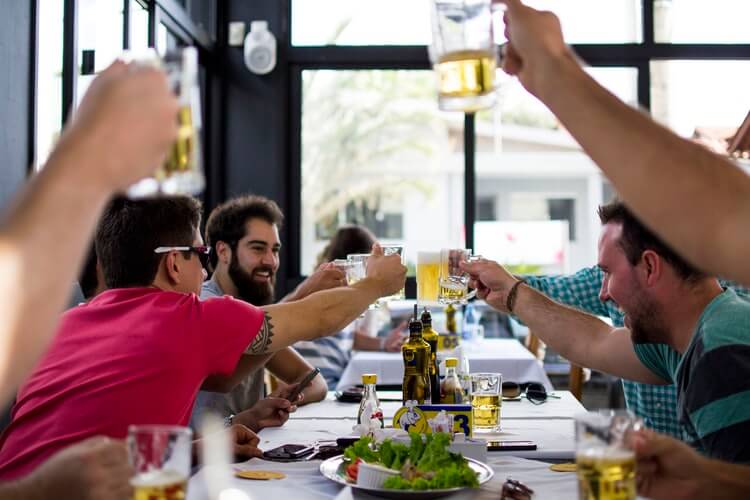 Safe dining and food safety issues in restaurants should always be a priority. In spite of a tough year (and then some), pandemic considerations for restaurants and bars have given restauranteurs new tools and strategies that will continue to impact the trajectory of the industry.
New Possibilities Emerge in Restaurant COVID Solutions
Many of the changes that occurred in restaurants in 2020 and after weren't at the discretion of restaurant owners or operators. The Centers for Disease Control (CDC) has and will likely continue to issue guidance to be used in coordination with any existing federal, state, and local mandates, orders, or regulations.
What has been fascinating to watch, though, is the way restaurant owners and managers have innovated, embraced technology, and generally persevered—not only for the sake of saving their business or meeting legal requirements, but to demonstrate to customers that ensuring their health and safety is a priority, whether in a pandemic or not.
These—the restaurant COVID solutions that add value for customers, owners, and staff—are the safe dining strategies that many restaurants will continue to employ after the threat of COVID-19 has diminished. This article discusses four specific areas of pandemic-driven best practices for restaurants that the industry is likely to preserve or expand:
Outdoor dining and new considerations in restaurant design;
Changes to menus;
Technology/touchless payments; and
Expanded take-out and delivery options.
Safe Dining by Design
Indoor dining has been prohibited or strictly limited in most places through much of the pandemic. Restaurants, when possible, have operated with minimal, if any, seating indoors and with outdoor dining, which has also required additional spacing between tables. Patrons have embraced the outdoor settings and have also become accustomed to more personal space, and restaurant designers are taking these preferences and changes of habit into consideration in new projects.
Many restaurants built or remodeled in the near term will have outdoor eating spaces that are more functional and visually interesting. Inside, we can also expect more space between tables, with cleverly designed private areas and nooks. Finally, it is likely that more attention will be given to air circulation and filtration in the restaurants of the future—whether that means including more windows and doors that can be opened or investing more in premium air handling systems.
Restaurant COVID Solutions: What's on the Menu?
The pandemic required restaurant operators to rethink their menus—from the fare offered to the methods used to relay that information to customers. Supply chain issues and shortages of goods forced chefs to prioritize flexibility and adjust their offerings as needed. Some states and municipalities began allowing take-out of adult beverages and many restaurants focused on meals that travel well, since carry-out and delivery became critical streams of revenue.
One of the most-adopted restaurant COVID solutions was a shift to digital menus, which patrons often access by scanning a QR code, and online or mobile ordering in the early months of the COVID crisis made it easier to change menus as needed without the significant overhead of reprinting and replacing materials. While some customers will wish to return to print menus after the threat of COVID has decreased, many patrons have embraced digital menus (significantly more than in pre-pandemic days), offering restaurants and chefs more flexibility to update offerings and simplifying the ordering process.
Technology, Touchless Pay Take a Starring Role in Pandemic Considerations for Restaurants and Bars
Contactless payment is another shift in the restaurant industry that has been propelled by the pandemic. Digital menus and order-placing applications (apps) sometimes include touchless payment options. As an added perk, many of the apps used for digital ordering also integrate customer loyalty programs and perks.
On-site, touchless payment options included in smartphones, like Apple Pay or Samsung Pay, use near-field communication (NFC) to make secure transactions with restaurant systems and pay the bill without contact between an employee and the patron. EMV technology, those chip credit cards most people are carrying now, can also be used for contact-free payment when the restaurant has the necessary hardware.
Cryptocurrencies, like Bitcoin, and the blockchain technology on which they are built, also provide restaurants with new possibilities for payments and transactions. Currently, there is more opportunity for Bitcoin or blockchain transactions when working with vendors and supply chain management, but these systems are expanding into the business-to-consumer market.
The Return of Safe Dining Indoors Won't Be the End of Take-Out
Restauranteurs got creative during the pandemic. In many cases, an expansion of services—specifically, offering more take-out, curb-side, and delivery options—became essential to many of those restaurants that would survive shut-downs and capacity restrictions. One survey found that 46 percent more people ordered carry-out or delivery during the pandemic than before COVID became a threat, and orders for disposable containers increased 43 percent over the pre-pandemic period. Restaurants and bars shifted to offerings that travel well, including meals to be assembled, completed, or even prepared at home.
Technology played a role here too, creating intimacy in an otherwise socially-distant interaction. Some restaurants used QR codes to lead diners to interactive experiences, like a video explaining how to plate or prepare the meal or a soundtrack to capture the ambience that you miss when you don't dine in. Creative solutions like these will be key in maintaining relationships with diners who spend few, if any, moments in contact with staff or within dining facilities.
While an enthusiastic return to safe dining indoors, or at least on restaurant premises, is expected, research shows that restaurants and diners alike want the expansions of take-out services to remain. Open Table and the James Beard Foundation surveyed diners and restaurant operators and found that 76 percent of restaurant professionals would like to continue to offer take-out, while 91 percent of diners hope the expanded options for grabbing food to-go continue.
Discuss Restaurant COVID Solutions to Keep with Your Huntington Business Attorney
The restaurant industry still has challenges ahead. Staffing issues, not new to the industry, continue to be a significant challenge. The businesses that adapt and innovate to solve ongoing issues as well as new problems that arise will be the leaders who move the industry forward and reap the benefits of the tide of patrons that is expected in a post-pandemic era.
Balancing the use of technology with maintaining an identity, ambience, and relationships will be key. Still, tending to the business details of operating a restaurant is another essential element of success.
If you would like to discuss restaurant COVID solutions and their role in the industry moving forward or other restaurant business details. Contact the firm today by calling (304) 523-2100 or completing the firm's online contact form.
---