By
Of Jenkins Fenstermaker, PLLC on 07/11/2019
Charleston, WV Opportunity Zones Offer Benefits for Investors and the Community
A drive through Charleston, West Virginia (WV) reveals the investments that are being made to grow business and enhance the local community. Savvy developers and investors who seek to capitalize on and lend to the city's progress now have an additional incentive in the form of tax benefits when efforts are focused in designated Charleston, WV Opportunity Zones.
This article is the third in a series of four on the topic of Opportunity Zones in WV. An overview of Opportunity Zone basics was provided in the first blog of the series, while article two focused on development opportunities in Huntington, WV.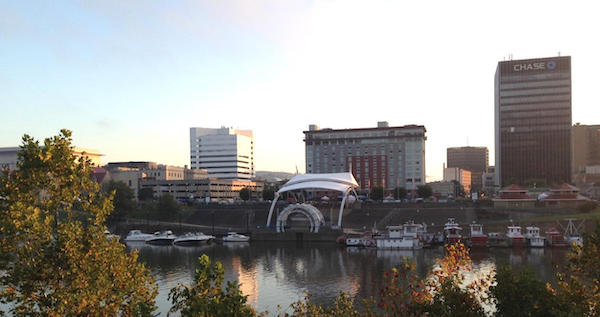 Prospects for Development in Charleston, WV Opportunity Zones
Economic development requires the concerted efforts of many stakeholders. The newly renovated Charleston Coliseum and Convention Center is one representation of this city's commitment to making the Capitol City shine, while quaint and quirky shops along Capitol Street and in the revitalized Elk City area illustrate growth in the small business sector.
Substantial financial investments and development projects in West Virginia are essential to persistent economic development. Qualified Opportunity Zones (QOZs or Opportunity Zones) and Qualified Opportunity Funds (QOFs or Opportunity Funds) provide incentives for impactful investments that create jobs and support business growth while offering financial returns and benefits to investors.
Opportunity Zones in WV and the Wider US
Opportunity Zones and Funds were created by the Tax Cuts and Jobs Act of 2017 (Public Law 115-97). All 50 states were invited to submit economically distressed urban and rural communities for consideration to be designated as QOZs. This designation allows investors in these geographic areas to qualify for federal tax advantages and preferential treatment of capital gains. QOFs are the vehicles-usually partnerships or corporations-for investment in QOZ projects.
In WV, 55 zones were among the QOZs approved and announced in 2018 by the US Department of the Treasury and the Internal Revenue Service (IRS). Four of these 55 Opportunity Zones are in Charleston, WV, while two additional zones were designated in the nearby city of South Charleston. These are the QOZs in the Charleston metro area:
Downtown Charleston's Central Business District (CBD);
Warehouse District on Charleston's East End;
Elk City area near Charleston's West Side;
Kanawha City; and
Two tracts in the Spring Hill neighborhood of South Charleston
The WV Governor's Office released a list of Opportunity Zones in WV with specific location details, and a Charleston, WV Opportunity Zone map is also available.
Opportunity Zones in Charleston, WV: The Downtown Central Business and East End Warehouse Districts
The Charleston Area Alliance and the City of Charleston worked together to secure the designation of several vital areas of the city as QOZs. The Downtown Central Business District and adjoining East End Warehouse District were obvious choices with demonstrated need and a wealth of revitalization potential.
The Downtown CBD encompasses the area between the Kanawha River and the railroad tracks near Piedmont Street, from the Elk River to Brooks Street. This area includes the newly renovated Charleston Coliseum and Convention Center, the Town Center Mall, Charleston's historic Municipal Auditorium, and the Clay Center, a state-of-the-art science center and performance venue.
Kanawha Boulevard, along the Kanawha River, plays host to an assortment of events each year including concerts, like the Live on the Levee series at Haddad Riverfront Park; car shows; sports and watersports festivals; and more. Paved paths along the river offer recreation for joggers, walkers, and bicyclists.
A few blocks away, a quaint downtown area boasts local dining, unique shops, and specialty treats. Pies and Pints, Adelphia Sports Bar, Taylor Books, Rock City Cake Company, and Ellen's Homemade Ice Cream are just a few of the locally-owned small businesses located on a single block of the downtown area.
Near the junction of Interstates 64, 77, and 79, the Capitol Market houses the Charleston Visitor Center plus indoor specialty shops and an outdoor market where local vendors sell seasonal produce and other goods.
Just down Smith Street from the Market, the adjacent East End Warehouse District spans from Brooks Street to Greenbrier Street near the West Virginia Capitol Complex and from Washington Street East to Piedmont Road. This part of the city is home to Appalachian Power Park and the WV Power, a Class A minor league affiliate.
In this area, you'll also find more unique local dining-like Bricks and Barrels and Bluegrass Kitchen-plus spa services, a yoga studio, CrossFit gyms, and Laidley Field, the athletic home field of the University of Charleston and a venue for many local sporting events.
The Elk City and West Side Opportunity Zone
Across the Elk River, on the western end of the city of Charleston, entrepreneurs and small business owners have envisioned a new life for the Elk City Historic District. Mi Cocina de Amor, Kinship Goods, and Base Camp Printing Company were among the first new shops to call the area home, joining veteran West Side businesses like The Grill and the Academy of the Arts at January's.
Elk City is now home to an upscale barber shop, a record store, and several new, locally-owned restaurants, many of which have preserved historical elements of the spaces they inhabit like Books and Brews' original tin ceiling and Gonzoburger's marble bar and original wooden mantle.
The Elk City and West Side Opportunity Zone spans from the Elk City District, specifically Washington Street West to the Kanawha River, and from the Elk River west to Park Avenue in the heart of the city's West Side. Along the river, Magic Island offers play areas, a splash park, and family events along with a continuation of the river trail for walking and biking along the Kanawha.
Development Opportunities in Kanawha City
The Kanawha City Opportunity Zone begins at 44th Street and expands to Charleston's southeastern city limit. The tract includes properties from MacCorkle Avenue to the railroad tracks near Chesterfield Avenue for several blocks before expanding to include an area of land between MacCorkle Avenue and the Kanawha River. Much of this property is near historic estates along the river and picturesque neighborhoods filled with charming homes.
The Kanawha City area is home to veteran and startup businesses and restaurants, The Shops at Kanawha, the River City Youth Ballet Ensemble, and several hotels, all with easy access to I-64/I-77 (WV Turnpike).
South Charleston, WV Opportunity Zones
Two parcels of land in South Charleston, WV have been approved as QOZs. Both are located in the Spring Hill area of Charleston's neighboring city. The boundaries of these zones are not as easily defined as those in Charleston, with the US QOZ map highlighting two adjacent census tracts from Jefferson Road to Smith Creek Road that run from the Kanawha River inland roughly one to two miles.
Little Creek Park, owned and operated by the City of South Charleston, is within the boundaries of the QOZs. The park offers sports fields and a soap box derby track, swimming, hiking, and picnicking. These nature-based activities are also found in nearby Kanawha State Forest.
Portions of US 119 and the popular Corridor G shopping area are included in the South Charleston Opportunity Zones. Downtown South Charleston is located within the tract. With its many dining options, the area attracts visitors to its unique shops, festivals, and parades.
Investing in Charleston, WV Opportunity Zones
Charleston, WV and the surrounding areas offer an impressive quality of life to residents. The city's position at the junction of three major interstates makes for easy access, but traffic is extremely manageable. Yeager Airport, named for famous airman General Chuck Yeager, is a short drive from the Capitol Complex and offers flights to several major cities.
Community involvement is high, with events like FestivALL, the traditional Vandalia Gathering, and Symphony Sunday drawing crowds, but also impressive participation from community groups and grassroots organizations like Charleston Main Streets as well as larger economic development groups like the Charleston Area Alliance and Advantage Valley.
Charleston is home to a Pulitzer Prize-winning newspaper, the Charleston Gazette-Mail, and several institutions of higher learning including nearby West Virginia State University and campuses of Marshall and West Virginia Universities. From its salt-rich history to the chemical companies that still call Charleston home, industry has waxed and waned but continues to evolve in this town that has dubbed itself "Hip. Historic. Almost Heaven."
Clearly, the Charleston, WV area offers promise for investors and developers. The creation of Opportunity Zones in WV strengthens that potential, but appropriately vetting properties and structuring agreements is essential to ensuring that investors receive the tax benefits of investments in QOZs and QOFs.
Attorney Stephen J. Golder of Jenkins Fenstermaker is experienced in commercial real estate and development and can assist in legal matters related to Opportunity Zones in WV. Steve was recognized as the 2018 Charleston, WV Commercial Transactions and UCC Lawyer of the Year in 2018 and the Charleston, WV Real Estate Lawyer of the Year in 2019. He recently handled the auction of the Charleston Town Center Mall and enjoys the support of a full-service law firm with offices in Huntington, and Clarksburg, WV.
Businesses and individuals who are interested in pursuing development projects in West Virginia are wise to consider the options in QOZs. Steve Golder and the attorneys and staff of Jenkins Fenstermaker, PLLC can provide the necessary insight and legal guidance to successfully invest in Charleston, WV Opportunity Zones. Contact Steve by calling the firm at (304) 521-2300, toll-free at (866) 617-4736, or completing his online contact form.
---