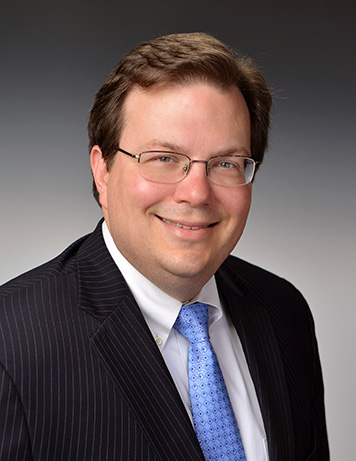 Stephen J. Golder
Member
Huntington, WV
When you need a West Virginia commercial transactions and UCC law attorney to go to bat for you, the top of the roster is Stephen J. Golder at Jenkins Fenstermaker, PLLC. Steve has over 25 years of success representing clients in commercial transactions as well as bank financing transactions, mergers and acquisitions, and commercial real estate deals. Combine his integrity, honesty, and loyalty with his vast experience and legal skills and you have a major league player on your team.
Steve's client base includes small and large family businesses as well as large manufacturers, real estate developers, and lending institutions, who regularly turn to him as a trusted advisor. He works on all facets of their commercial, business, financing, and real estate needs. Representative clients include Branch Banking and Trust Company (BB&T); City National Bank, Steel of West Virginia, Inc.; Allegheny Wood Products, Inc.; Interstate Development Company; and Sheetz, Inc.
His clients also benefit from his work on large loan transactions, commercial real estate development, and land use and zoning issues. Steve serves many clients as their "outside general counsel," advising on both routine and strategic challenges such as corporate governance, new business opportunities, risk analysis and management, employee issues, and contract drafting and review.
Professional organizations also recognize Steve's talents. Most recently, Best Lawyers in America© named Steve the 2018 Charleston, West Virginia Commercial Transactions and UCC "Lawyer of the Year."
Steve's success is based in part on his lifelong love of problem-solving. After graduating magna cum laude from Wittenburg University with a degree in chemistry, he attended University of Virginia School of Law, where he was a member of the Virginia Journal of Law and Politics. Following law school, he made Jenkins Fenstermaker his professional home.
Steve heads up Jenkins Fenstermaker's Business Services Section. Like a business doctor, Steve works to treat and prevent problems in business entities and to facilitate beneficial business transactions.
As a longtime resident of Huntington, Steve also gives back to his community. He serves on several area boards and committees such as St. Mary's Medical Center Foundation and the Marshall University Institutional Review Board, which evaluate all human research done by area hospitals, the U.S. Department of Veterans Affairs in West Virginia, and Marshall University. Steve also serves on boards for the Society of Yeager Scholars at Marshall, the Huntington Area Development Council, and Stella Fuller Settlement, Inc. A lifelong member of St. Paul Lutheran Church, Steve has served on various committees since 1993, currently as lay vice-president of the congregation and chair of the Stewardship and Finance Committee.
When not at the office, you might find Steve soaking in a game of his favorite baseball team. He is an avid Cincinnati Reds fan and loves to attend home games. He also follows spring training in the Cactus League. Outside of baseball, Steve enjoys seeing movies with family and friends or enjoying his season tickets to Marshall University football and basketball games.
Professional and Community Activities:
Marshall University Society of Yeager Scholars – Board of Directors
Huntington Area Development Council, Member, Executive Committee, 2006 to Present
Stella Fuller Settlement, Inc., Board Member, 2010 to Present
St. Mary's Medical Center Foundation, Board Member, 2016 to Present
Marshall University Institutional Review Board, 2008 to Present
St. Paul Lutheran Church, Member 1967-Present, Various committees 1993 to Present
Presentations and Publications:
Title Insurance: From Start to Finish, National Business Institute, 2017
Your Firm's Transition, Look to the Future, WV Chapter of American Institute of Architects, 2016
LLC or Inc.?, National Business Institute, 2014
Examining and Resolving Title Issues, National Business Institute, 2009
Unauthorized Practice of Law in West Virginia, West Virginia Society of CPAs, Huntington Chapter, 2006
Legal Requirements of Client Confidentiality, West Virginia Society of CPAs, Huntington Chapter, 2004
Choice of Business Entity, West Virginia Society of CPAs, Huntington Chapter, 2003
Brownfield Redevelopment in West Virginia, Turning Liabilities into Assets, Charleston, WV, 2002
Brownfield Redevelopment in West Virginia, Turning Liabilities into Assets, Huntington, WV, 2002
Recognitions and Awards:
Best Lawyers in America©, 2018 Charleston, West Virginia Commercial Transactions and UCC "Lawyer of the Year"
Best Lawyers in America©, Business Organizations, 2014-2018
Best Lawyers in America©, Commercial Transactions/UCC Law, 2017-2018
Best Lawyers in America©, Corporate Law and Mergers & Acquisitions Law, 2009-2018
Best Lawyers in America©, Real Estate Law, 2008-2018
Super Lawyers, 2015 - 2021
Lawyer of the Year, Real Estate Law, 2019
Lawyer of the Year, Commercial Transactions/UCC Law, 2018