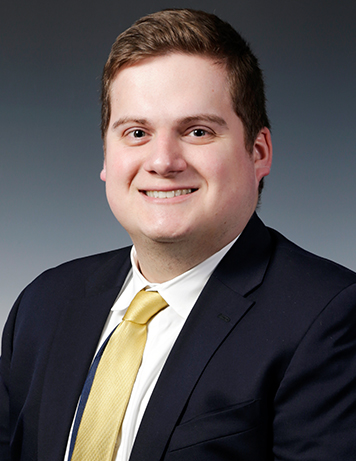 Kevin H. Stryker
Associate
Huntington, WV
Kevin H. Stryker helps commercial and municipal clients throughout West Virginia (WV) defend against claims of liability. His practice as a litigation attorney in WV at the Huntington office of Jenkins Fenstermaker, PLLC focuses on the construction, insurance, transportation, and hospitality industries, as well as municipalities.
After completing his undergraduate studies at West Liberty University, Kevin Stryker attended law school at the West Virginia University (WVU) College of Law, where he received his J.D. During law school, Kevin worked as a student attorney at the WVU College of Law's Entrepreneurship and Innovation Clinic. He also served for several years as an intern and summer law clerk at the Wheeling law firm Casey & Chapman, PLLC. As a law student, Kevin received four CALI Excellence for the Future Awards® in the areas of Business Organizations, Appellate Advocacy, Trial Advocacy, and Firearms Law and Policy Seminar. He is a member of The Order of the Barristers and was involved in the WVU College of Law Student Bar Association.
Kevin enjoys his practice as a litigation attorney in WV because it provides the opportunity to work closely with clients, developing a thorough understanding of the arguments on both sides of the case that supports his ability to produce favorable results. He thrives when he is performing deep analysis of legal arguments and scrutinizing the allegations of wrongdoing against his clients, whether he is working with a business or in WV insurance defense.
Striving to learn as much as possible about a case and gain a full understanding of the arguments presented, Kevin helps clients with complex liability and legal issues like tractor trailer accident defense in WV by working hard, attending to every detail, and thoughtfully identifying the best solutions. He prioritizes communication with clients and enjoys facilitating conversations that move the case forward and lead to a successful resolution.
When he is not working on behalf of his clients, he enjoys visiting the various restaurants in Huntington and throughout the tri-state area. An avid sports fan, he can also often be found watching or attending sports events or adding to his collection of sports memorabilia.
Whether you need tractor trailer accident defense in WV, general or commercial litigation defense, or legal counsel and representation for WV municipal defense, Kevin Stryker will provide the meticulous, thoughtful, and dedicated service that these areas require. As a litigation attorney in WV, he is ready to dig in and find the best solutions for your legal matters.
Education:
J.D., West Virginia University College of Law, 2022
The Order of the Barristers, 2022
CALI Excellence for the Future Award®, Business Organizations, Appellate Advocacy, Trial Advocacy, and Firearms Law and Policy Seminar
B.S., Sport Management, West Liberty University, 2019
B.S., Marketing, West Liberty University, 2019
Bar Admissions:
Supreme Court of Appeals of West Virginia
US District Court for the Southern District of West Virginia
US District Court for the Northern District of West Virginia
Practice Areas
General Litigation
Commercial Litigation Defense
Insurance Defense