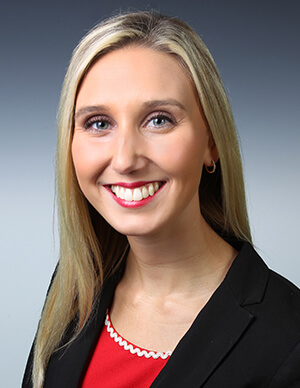 Haley Brooke Ferguson
Associate
Huntington, WV
Haley Brooke Ferguson joined the Huntington office of Jenkins Fenstermaker, PLLC as a WV estate planning lawyer right out of law school. Haley completed her Juris Doctor from University of Dayton School of Law, which developed her interest in helping people develop WV estate planning strategies.
The key to success in estate planning is communication, which is one of Haley's greatest strengths. It was also her field of study in her undergraduate work at the University of Pikeville. She graduated from the University of Pikeville summa cum laude in 2016 and headed straight into law school.
As an estate planning attorney in Huntington, Haley will be assisting clients develop their estate plans and create the estate planning documents required to best optimize each client's individual wishes for the final distribution of their legacy. She is committed to listening to each client's wants, needs, and concerns and using that information to develop an estate plan to fully encompass the client's desires. She makes each client feel comfortable, knowing that she is the WV estate planning lawyer for them.
When Haley is not meeting with clients or otherwise working as one of the premier WV estate planning attorneys at Jenkins Fenstermaker, she can be found enjoying time with friends and family, traveling, relaxing with a television show or movie, or working on an organizational project around the house.
Education:
J.D., University of Dayton School of Law, 2019
Themis Bar Review

Student Representative, 2016 to 2019
Head Student Representative, 2018 to 2019
B.A., summa cum laude, University of Pikeville, 2016
Valedictorian
President's List

Fall 2015 and Spring 2016
Fall 2014 and Spring 2015

Dean's List

Fall 2013 and Spring 2014
Fall 2012 and Spring 2013,

Outstanding Achievement in Communications Award, 2016
NAIA Scholar-Athlete

2015 to 2016
2014 to 2015

Academic All-Mid-South Conference

2015 to 2016
2014 to 2015
2013 to 2014

Freshman of the Year, 2013
Bar Admissions:
Supreme Court of Appeals of West Virginia
Practice Areas
Estate Planning
Probate
Trusts
Wills